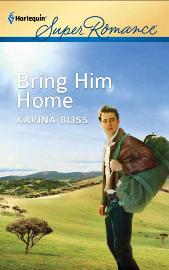 Harlequin SuperRomance
June 2012 (USA)
ISBN13: 9780373717842
Former soldier Nathan Wyatt had no choice but to leave his army buddy to die, a secret that's still tearing him apart. Two years on, he's in Hollywood prostituting his war medal for work as a bodyguard to the stars when his best friend's widow drags him home to fulfill his neglected responsibilities to her family trust.
When he discovers Claire can't forgive her late husband for breaking a crucial promise, Nate sees his path to salvation. He'll be his buddy's advocate, secure Steve's place in his wife's memory. The last thing he intends is to find himself in a love triangle with his dead best friend.
Will admitting the truth – all of it – set him free, or alienate the woman he's come to passionately love?
Order your copy of Bring Him Home now
Amazon  |  Harlequin  |  iBooks
For those outside the US who can't access the Amazon deals, use this link.

 "You're still up."
Catching sight of her as he opened the front door Nate smiled, but his brown eyes radiated a cold anger.
Zander had told him.
Claire returned a conciliatory smile. Then he shouldn't have lied to her. "I said I'd wait up." She noticed that his dark hair was disheveled, his tie hung loose and his immaculate white shirt was half undone. "Are you… drunk?"
"I don't get drunk." Nate slipped the suit jacket off, threw it at the coat stand and missed. He wore a gun holster. "More like comfortably numb."
"I hope you didn't drive."
"No, we caught a cab." Half turning, Nate held out his hand. "Pia, come meet my stalker."
"Mia," corrected a female voice. Disbelieving, Claire stared at the tipsy goddess, all curves and collagen lips, who grabbed Nate's hand and stumbled inside.
Knowing how important it was to settle this he'd bought a pick-up home?
"Mia, meet Claire. Claire, meet Mia."
"I don't do threesomes," Mia said flatly.
Nate laughed. "You've gotta love Hollywood," he said. "It's okay, babe, Claire's a friend…married to my best friend." Freeing his holster, he removed the cartridge from the gun, then opened the hall cupboard, revealing a small safe. "I know in this town that doesn't mean much, but in our circle it's a very big deal. Well, maybe not too big a deal since Claire has screwed me…metaphorically speaking." Depositing the weapon, he slammed the metal door shut. Hard.
Claire took a deep breath. "Nate."
He smiled and wagged a finger at her. "All this talk of understanding, when you intended playing Zander's heartstrings all along. He says I have to do my dooty…that's how Americans pronounce it, dooty. There's some irony in being lectured on doing the right thing by a guy notorious for putting himself first."
Mia laughed. "That is funny." She fondled his chest, clearly oblivious to his real mood.
"Almost as funny as you lying to me about tour dates," Claire said evenly.
"I promised Mia a private party, so we'll discuss this tomorrow. C'mon, babe, let's find a drink."
"I've been hitting on this guy for months," Mia confided happily to Claire as Nate ushered her past. "Talk about hard to get."
"You're telling me." Claire followed them to the kitchen. "You could have avoided this, Nate," she pointed out. "I sent letters, my lawyer sent letters…you're not the only one struggling with Steve's and Lee's deaths.
He had his back to her, opening cupboard doors. "All due respect, Claire, you have no friggin' idea what I feel." He passed Mia a couple of glasses.
She wanted to shout, Steve was my husband. But that would crack her self-control and she needed those shields. "You agreed to be a trustee," she reminded him quietly. "All I'm asking is that you do your job."
"Here it is," he said, holding up a bottle of Jack Daniel's.
"You guys aren't acting much like friends," Mia ventured.
"Sure we are." Nate flashed Claire a hard smile. "Here's what we're going to do. I'll lend you whatever money you need to bring the boat up to spec. That will take the pressure off selling the house. And I'll sign any papers your lawyer sends me. But no one pushes me into doing what I don't want to, Claire. Not even you."

"This story is powerfully touching and sharp." – Sarah Wendell in The Washington Post
"Karina Bliss's Bring Him Home is a book I will hand to people when they tell me romance is trashy. There is nothing remotely superficial about this book… It blew me away, hollowed me out and made me appreciate what I have like all great books should." – Nicole Helm
"As Nate and Claire remember Steve, they help each other get over their grief and find space in their hearts for something new. Watching them both discover that newness was engaging. Nate becomes grumpy at other men finding Claire attractive, something he tells himself is a holdover of his protectiveness toward Steve. Claire realizes what other women around her acknowledge – that Nate is one very sexy guy whose endearing gruffness masques a tender heart and whose commitment to a cause or a person is never wavering." B+ from Jane Litte, Dear Author
"I meant to sit down a read a couple of chapters before bed, but ended up reading the entire book in one sitting and having a very late night. Well, early morning, actually. Bliss is one of those authors who makes her characters seem like real people. There were funny situations. There was funny banter. The characters acted their ages instead of being the perfect 1950s-style stereotypes that you will still find in plenty of books these days. I could relate to these people." – Sonya's Stuff
"Bliss combines excellent description with a very realistic take on Nate's and Claire's feelings, and their attraction to each other, given Nate's position as one of her husband's best friends." – RT Book Reviews
Read my blog post on Bring Him Home's setting.
Bring Him Home was chosen as the Sizzling Book Club Chat by renowned reader site Smart Bitches. Here's the link to the transcript.