OUT NOW!
What happens after Happy-Ever-After?
Love. Gets. Real.
Zander and Elizabeth's story, which began in Rise, continues in Redemption.
Read an excerpt of the next release in my Rock Solid series.

---

ROCK SOLID:




Romance Box Set (Books 1-3)
I've boxed up the first three books of my Rock Solid series for US$8.99.
Rise
Elizabeth Winston is an award-winning biographer with no interest in writing about celebrities. But when she winds up working with gorgeous rock star Zander, the chemistry between them is sizzling hot…
Books like Rise are the reason I read romance." ~ Loveaffairwithanereader
Play
When the nerdy college sweetheart you married becomes a woman-magnet rock star, how do you hang on to happy-ever-after?
I ADORED this novella. Play is deeply romantic and wonderfully emotional. I can't wait for more from the Rock Solid series!" ~ Nalini Singh, NYT bestselling author of the Rock Kiss novel series
Fall
A woman who makes Machiavelli look like a first grader discovers the band's nice-guy is (almost) more man than she can handle.
Another outstanding book…when Seth and Dimity come together there is an explosiveness in and out of the bedroom." ~ Jezebell Girl & Friends
GET YOUR BOX SET FROM:
Amazon  |  Nook  |  iBooks  |  Kobo
---
SPECIAL FORCES:


A Complete Military Romance Series (4-Book Box Set)
One ambush. Four soldiers. And the enduring power of love.
The Soldier's Wedding
After returning from Afghanistan, Special Forces veteran Dan has only one mission: to persuade Jo to become his wife. Can he prove to his best friend that they can create a love story for the ages?
The Rescue Mission
Viv Jansen's creative solutions work well as an international costume designer, not so well as her family's black sheep. But she's going to save the day—if only her brother's military buddy Ross will move his disapproving Alpha-ness out of the way and help!
Bring Him Home
When Nate discovers Claire can't forgive her late husband for breaking a crucial promise, he sees his path to salvation. He'll be his buddy's advocate. The last thing he intends is to find himself in a love triangle with his dead best friend.
A Prior Engagement
After eighteen months as a POW presumed dead, Lee Davis is finally going home. Back to his family, friends and… fiancée? Except that the night before his last deployment, Juliet Browne rejected his proposal.
GET YOUR BOX SET FROM:
Amazon  |  Nook  |  iBooks  |  Kobo
---

THE LOST BOYS:




A Complete Romance Series (4-Book Box Set)
Buy my first four books for a great price!
Mr. Imperfect
A second chance for love…or the last word? It's a tough choice when your sexy childhood sweetheart shows up in this award-winning rural romance. ~ Romantic Book of the Year (RuBY) winner Australia
Mr. Irresistible
A crusading journalist discovers appearances are deceptive when she's manoeuvred into a river journey by a sexy millionaire playboy in this modern spin on Pride & Prejudice.
Mr. Unforgettable
The widowed mayor of a small town struggles professionally and personally when her affair with an unsuitable man becomes so much more for both in this sexy romance.
Mr. Undeniable
A businessman inherits custody of three children with his ex-wife, the woman he walked away from after a personal tragedy in this poignant story of second chances. ~ Romantic Book of the Year (RuBY) finalist Australia
GET YOUR BOX SET HERE.
---
MORE REISSUES FROM KARINA: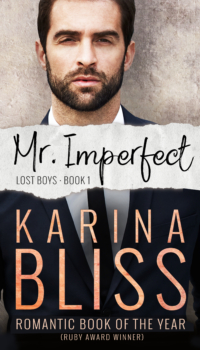 She broke his heart...
It takes a funeral to drag bad-boy billionaire Christian Kelly back to his rural New Zealand hometown. Now thanks to an ancient IOU, he's stuck there trying to save the inheritance of the only woman who ever dumped him.
Read more here.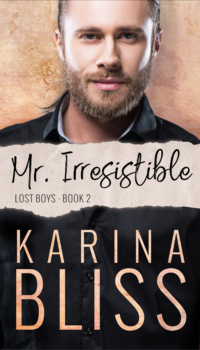 She's a crusader, he's a maverick...
To everybody else, billionaire Jordan King is a selfless philanthropist and most eligible bachelor, but newspaper columnist Kate Brogan has inside information that he is a home wrecker - handsome and full of false promises.
Read more here.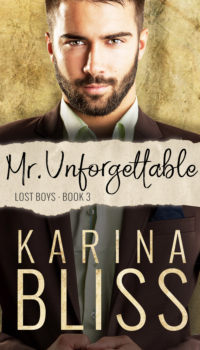 Her marriage was perfect, his was a disaster.... an ideal match?
Reclusive billionaire Luke Carter can never forget that he'd been abandoned as a child. And that's why he's driven to build his camp for underprivileged kids in small town Beacon Bay. His only ally is mayor Elizabeth Light, a woman he wants to know better....
Read more here.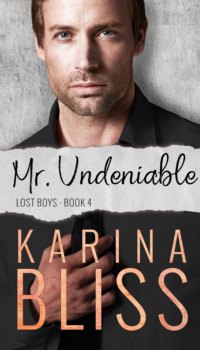 Could she risk loving him again? 
Just when he has accepted that he'll never be a father, Jack Galloway inherits not one, but three kids.  He's supposed to raise this family with his ex? 
Read more here.