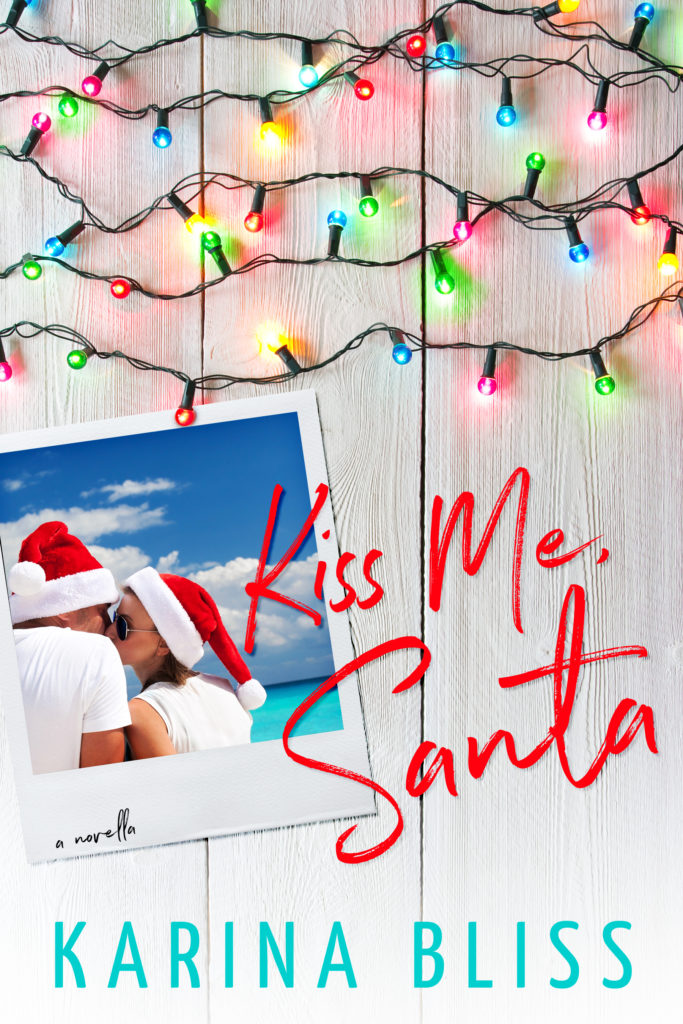 e-ISBN: 9780994116598
Republished: December 2016
World English rights: © Karina Bliss
Single mom versus single-minded Grinch. Whose Christmas spirit is going to break first in this humorous and heartwarming holiday novella by award-winning author Karina Bliss.
To his horror, a reclusive American finds he's bought a house in a New Zealand street famous for its Christmas lights. It's his community-minded neighbor's task to ensure no one—but no-one—breaks a hallowed twenty-year tradition.
A Kiwi Christmas story that proves that December is best served hot!
Previously published in That Christmas Feeling anthology.
Get your copy of Kiss Me Santa now

Bang. Bang. Bang.
Mike woke on a jump-start of adrenaline and stared uncomprehending at his surroundings. A bright sun yellowing the filmy curtains.
His wild pulse steadied. Suburban Auckland. New Zealand. December. Hideous curtains he kept meaning to replace. Three years, seven days since-
Repeated knocking interrupted the though. The proficient rat-a tat-tat of someone with no intention of going away. Rolling over, Mike glanced at the clock – noon. Four hours sleep. "Son of a-"
Flinging off the sheet, he dragged himself out of bed and thundered downstairs. "What does a guy have to do to get some peace around here?" If it wasn't someone mowing their lawn, it was kids yelling. Or an estate agent cold-calling. More likely one of his damn neighbors… "I appreciate you work nights, Mike, so I won't keep you long but…."
Muttering under his breath, "How'd you like me visiting at 4 a.m." he hauled open the door and blinked into the sunlight. Erica Owens. The one damn neighbor who knew to leave him the hell alone.    The only one he sometimes thought he wouldn't mind knowing better.
Her eyes widened as she took in his state of undress and Mike had a sudden horrible thought. Glancing down he exhaled in relief. He was wearing underwear.
"Oh dear," she said in dismay, "and I planned this so carefully."  She wanted to see him naked? Mike shook the last vestige of sleep from his brain. "I was sure it being Sunday you wouldn't have worked last night…"
Her gaze trailed over him again and he became aware of how he must look. Tangled dark hair, stubbled jaw, bloodshot green eyes and reeking of stale booze. Mike sighed, trying not to breathe fumes over her. "What's the brat done now?"
"Nothing!" Erica tried to look outraged but her eyes – a warm translucent brown – gave away her amusement. If you watched closely enough you could catch her thoughts, like the flick of a trout in a stream. Mike wished he'd never noticed that.
In the eight months he'd lived in this place, bought over the Internet when he was trawling for a rental for his two-year tech contract, they'd had four conversations.
The first, she'd brought 'welcome to the neighborhood' cookies. Except he wasn't in New Zealand to make friends. He was here to work, make money…hide out. She'd got the message. It had taken a hell of a lot longer to hammer it home to the other neighbors.
His subsequent conversations with Erica Owens had been in the company of her eight-year-old son, Will, when she'd brought the kid over to apologize.
For clambering on Mike's roof to get a ball out of the gutter without permission.
For trampling Mike's shrubs climbing over the fence to retrieve his hang-glider – not that Mike cared about shrubs.
For accidentally scratching the paintwork on Mike's BMW Z4 coupe after losing control of his skateboard. Mike had cared about that one.
But he liked her brat and they both knew it. Liked Will's hurtling enthusiasm to test the laws of physics particularly as they related to gravity and speed. In his previous life Mike had hoped for a kid just like him.
But this life was the one he'd ended up with.
"I'm here," Erica began, "in my official capacity as a member of the Lincoln Rd Christmas Lights committee."
"I'll get my wallet," he said in resignation. Only December 1 and already people had their hands out.
"No, it's nothing like that…Look, can I come in for a couple minutes?"
Shutting the door behind him, Mike gestured to the wooden porch-swing left behind by the previous owner. With the kitsch hearts carved in the back, he could understand why. Unfortunately the chains bolted to the overhead rafters required boltcutters. Not worth buying and he wasn't going to borrow. Too personal.
Erica sat down, and he took the wooden porch railing opposite. It would be polite to put on pants over his boxers but making people uncomfortable kept conversations short.
The sun beat down on his naked back, exacerbating his hangover. He envied Erica the cool of the porch. Her shoulder-length dark hair caught in a casual ponytail, she wore a denim shorts and a red T, and looked as fresh as a long cold drink of water. Under his scrutiny she crossed her long tanned legs and cleared her throat.
"Phil Mason – the committee chairman – said he dropped a letter in your box explaining our street's tradition of Christmas lights when you arrived?"
Mike shrugged. "I don't remember, but I automatically trash junk mail."
"Oh." She straightened in the seat, sending it swinging a little. "Well, it was started twenty years ago by Burt Klausen the old guy who owned your house. The whole street decorates their houses with Christmas lights…in fact, so many people do drive-bys we get midnight traffic jams. You could say we're world-famous in New Zealand." Her smile invited him to share the joke. Mike yawned. Her smile wavered. "Burt dressed up as Santa…he'd stand at his – your gate – and hand out lollipops donated by the supermarket."
"That explains the outfit I found in the spare wardrobe," said Mike. "I thought the previous owner had some kind of sexual fetish."
She surprised him by laughing. "Oh, Burt would have loved hearing that. He fancied himself as a bit of a ladies man."
"The perfect Santa," Mike sneered.
"He was." To his amazement, tears welled in Erica's eyes. "I'm sorry, we were close." Embarrassed, she blinked them away. "But at least Burt got his wish of dying in his own b-" Her gaze shot to his.
"Bed?" finished Mike. No wonder the estate agent was so cagey about the previous owner. "Don't worry. I have no problem sleeping with ghosts."
It bothered him to be so aware of her though. The tendrils of hair escaping from the ponytail, the stoicism under her smile, the smooth shapely legs.
"So anyway," she continued, "the lights get turned on December 14, twelve days before Christmas and turned off on the 26th. You don't have to do it but-"
"Good." He stood up. Automatically she did too. Otherwise she'd be eye level with his boxers.
"But you risk being ostracized if you don't," she joked.
"Promise?"
They were very close on the narrow deck so he saw the precise moment Erica realized he was serious. Tiny muscles contracted in her smooth face, like a gust of wind ruffling the surface of a lake.    Then she sat down again. As a tactical move it was brilliant. Now Mike was the one acutely aware of his navy underwear.
"Burt's daughter said she'd left the Christmas lights for the new owner."
"I haven't found any," he lied.
"Well you could buy some," she persisted. "Even a token gesture would be appreciated. Everyone spends what they can afford."
Mike smiled. "As you see, Erica, I can't even afford pajamas."
Her glance flicked to his boxers, she swallowed and stood up. Thank God. He couldn't have held his ground much longer. "Will and I have way too many lights. My ex husband was an electrical engineer… He loved this stuff. We'll lend you some."
Despite his best efforts to remain an outsider, Mike still knew Jeff Owens had left his young family last year and was working in Dubai. Another reason to avoid his neighbors. Gossip.
"No point," he said. "I'm hopeless at all that home handyman stuff. Your typical computer geek." She pointedly looked from his muscled torso to his arms and back to his face. He resisted the urge to fold his arms.
"I've read up on wiring Christmas lights this year. I could give you a hand?" The woman obviously didn't have a life.
Shaking his head, Mike steered her toward the steps.  "That's all very well but what about the carbon footprint? No, Erica, I don't think I could square it with my conscience."
"You could buy solar-powered," she suggested drily.
"Twice the price." The soft skin of her arm was silky warm under his fingertips. She smelled of lemon zest and cinnamon and baking. Sugar and spice and all things- Mike released her. "Virtue will have to be its own reward for me this year."

"Karina Bliss's Kiss Me, Santa was five-star-worthy, my top Christmas read of 2010. I love the believability and the likeability of Bliss's characters generally, and she was in top form here. There were some laugh-out-loud scenes and some poignant ones. I expect to be rereading this one for Christmases to come." ~Janga, goodreads.com
"Bliss' story shines." ~ RT Book Reviews Magazine