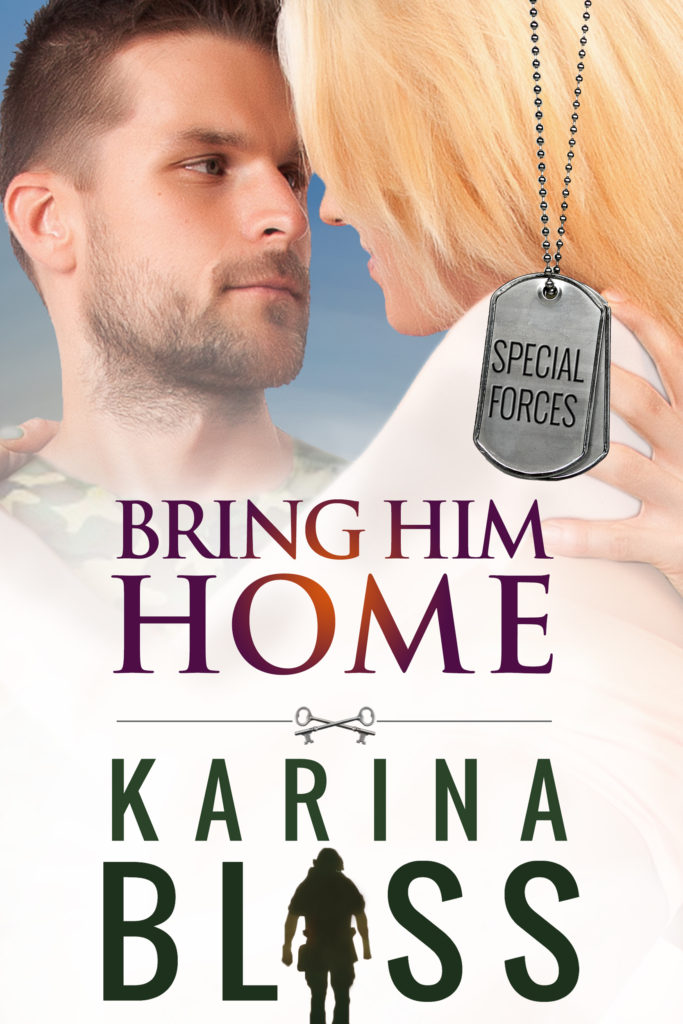 First published 2012
Republished: February 2018 by Karina Bliss
World English rights: © Karina Bliss
e-ISBN: 9780994145352

A medal doesn't make you a hero…
Former soldier Nathan Wyatt had no choice but to leave his army buddy to die, a secret that's still tearing him apart. Two years on, he's in Hollywood prostituting his war medal for work as a bodyguard to the stars when his best friend's widow drags him home to fulfill his neglected responsibilities to her family trust.
When he discovers Claire can't forgive her late husband for breaking a crucial promise, Nate sees his path to salvation. He'll be his buddy's advocate, secure Steve's place in his wife's memory. The last thing he intends is to find himself in a love triangle with his dead best friend.
Will admitting the truth – all of it – set him free, or alienate the woman he's come to passionately love?
Get your copy of  Bring Him Home  now
Amazon  |  Nook  | Apple  | Kobo

Visit my books page to read
about the other novels in this series
---

 "You're still up."
Catching sight of her as he opened the front door Nate smiled, but his brown eyes radiated a cold anger.
Zander had told him.
Claire returned a conciliatory smile. Then he shouldn't have lied to her. "I said I'd wait up." She noticed that his dark hair was disheveled, his tie hung loose and his immaculate white shirt was half undone. "Are you… drunk?"
"I don't get drunk." Nate slipped the suit jacket off, threw it at the coat stand and missed. He wore a gun holster. "More like comfortably numb."
"I hope you didn't drive."
"No, we caught a cab." Half turning, Nate held out his hand. "Pia, come meet my stalker."
"Mia," corrected a female voice. Disbelieving, Claire stared at the tipsy goddess, all curves and collagen lips, who grabbed Nate's hand and stumbled inside.
Knowing how important it was to settle this he'd bought a pick-up home?
"Mia, meet Claire. Claire, meet Mia."
"I don't do threesomes," Mia said flatly.
Nate laughed. "You've gotta love Hollywood," he said. "It's okay, babe, Claire's a friend…married to my best friend." Freeing his holster, he removed the cartridge from the gun, then opened the hall cupboard, revealing a small safe. "I know in this town that doesn't mean much, but in our circle it's a very big deal. Well, maybe not too big a deal since Claire has screwed me…metaphorically speaking." Depositing the weapon, he slammed the metal door shut. Hard.
Claire took a deep breath. "Nate."
He smiled and wagged a finger at her. "All this talk of understanding, when you intended playing Zander's heartstrings all along. He says I have to do my dooty…that's how Americans pronounce it, dooty. There's some irony in being lectured on doing the right thing by a guy notorious for putting himself first."
Mia laughed. "That is funny." She fondled his chest, clearly oblivious to his real mood.
"Almost as funny as you lying to me about tour dates," Claire said evenly.
"I promised Mia a private party, so we'll discuss this tomorrow. C'mon, babe, let's find a drink."
"I've been hitting on this guy for months," Mia confided happily to Claire as Nate ushered her past. "Talk about hard to get."
"You're telling me." Claire followed them to the kitchen. "You could have avoided this, Nate," she pointed out. "I sent letters, my lawyer sent letters…you're not the only one struggling with Steve's and Lee's deaths.
He had his back to her, opening cupboard doors. "All due respect, Claire, you have no friggin' idea what I feel." He passed Mia a couple of glasses.
She wanted to shout, Steve was my husband. But that would crack her self-control and she needed those shields. "You agreed to be a trustee," she reminded him quietly. "All I'm asking is that you do your job."
"Here it is," he said, holding up a bottle of Jack Daniel's.
"You guys aren't acting much like friends," Mia ventured.
"Sure we are." Nate flashed Claire a hard smile. "Here's what we're going to do. I'll lend you whatever money you need to bring the boat up to spec. That will take the pressure off selling the house. And I'll sign any papers your lawyer sends me. But no one pushes me into doing what I don't want to, Claire. Not even you."
Her throat tightened. "That's not good enough." She needed to make her own way, follow new dreams, since following the ones she and Steve had shared was no longer an option.
"That's my best offer." One arm hooked around Mia's waist, the other hand clutching a bottle of JD, he headed for the stairs.
Mia glanced over her shoulder with a worried frown. "Are you all right?" she said to Claire.
Her mouth started forming an automatic yes. "No. The last six months have been hell. My son's been getting into trouble and I've had to move him away from his deadbeat friends." She hated resorting to emotional blackmail, but Nate had left her no choice. "And I really need Nate to talk to him about Steve's death."
Shocked, Mia stopped. "Your husband's dead?"
Dropping his hand from her waist, Nate turned and looked at her. "He died almost immediately after impact," he said harshly. "There's nothing to add."
"And I've told Lewis that. We all have. But Dan wasn't on patrol and Ross can't remember a thing. You are the only eyewitness. I understand it's difficult for you, but he needs to talk to you about his father's last hours."
"No." His hand tightened on the balustrade. "I'll pay for counseling."
"What?" Unable to believe his callousness, Claire stared at him.
His gaze fell from hers. "And you can have my share of Heaven Sent," he added. "Consider it an apology for your wild-goose chase."
She didn't think he could hurt her more. He'd rather buy her off than spare a measly few days helping get her and Lewis's lives back on track. He was going to ignore the emotional welfare of a thirteen-year-old boy, a kid who'd idolized him.
Mia kissed Nate's cheek approvingly. "Aren't you sweet."
Something broke in Claire. "You selfish, insensitive son of a bitch! For months I've been making excuses for you to my son and stopping your mates from coming over here and dragging you home. 'Give him time,' I said. 'He'll come back to us.' You think it doesn't hurt that our friendship died with Steve?"
Nate stood perfectly still, his face white under his tan, Mia wide-eyed beside him.
"Do you think I enjoy having to swallow my pride and chase you halfway across the world?" The dam had broken; she couldn't stop the deluge of words even if she'd wanted to. "It's been a year and a half since the ambush, and you're telling me that I can't move on with my life because you're grieving? He was my husband, Nate."
"Claire." He took a step toward her and she held up a hand.
"My husband. All I want to do is take control of my finances and protect my son." Tears prickling her eyes, she turned to Mia. "Can't you see he's only using you to avoid dealing with me? The war hero is a goddamn coward!"
Mia opened her mouth, closed it. Nate stood frozen to the spot.
She had to get out of here. Holding tight to her anger, Claire stormed out of the house, remembering too late her bag was still in the kitchen. She'd walk along the beach until they went to bed, then sneak back and gather her stuff, because she wasn't going to spend one night under her former friend's roof. At least she still had Nate's spare key.
She heard hurried footsteps behind her. "Claire!"
Blindly she kept marching along the canal path. "Go to hell.""Come home, Claire." Nate tried to take her arm and she shook him off.
"Not until I'm good and ready…. Go exploit poor Mia."
"We decided she could do better than me…. And you can't go walking around here at night," he added patiently. "It's not safe."
She hadn't even considered that. Her anger deflated, leaving only a bone-deep weariness. What was she going to do now? Her footsteps slowed and then stopped. She looked at him, but the streetlight was behind him and his face was in shadow.
"I've been selfish," he said. "I'm sorry."
"Too little, too late." Claire returned the way she'd come. This time he knew not to take her arm.
"How many days are we talking about?" he asked as they reached his house.
Relief was a lump in her throat. "I figure two, maybe three at most."
"I don't want anyone to know I'm in the country."
Her heart sank.
"That means Lewis too," he said, spelling it out.
She'd had to rip a scab off a wound to make him do this. She wouldn't show vulnerability again. "You're in luck. He's at Dan's for the school holidays."
"I can't tell him anything he hasn't already heard from you."
"Any other conditions?" she said coldly.
"No." The exterior light illuminated a stranger's face. "That about covers it."

A pick for Smart Bitches bookclub when it was first published in 2012 you can read the full interview on the book here.
Read Dear Author's B+ Recommended Read review here.
Goodreads reviews can be read here.