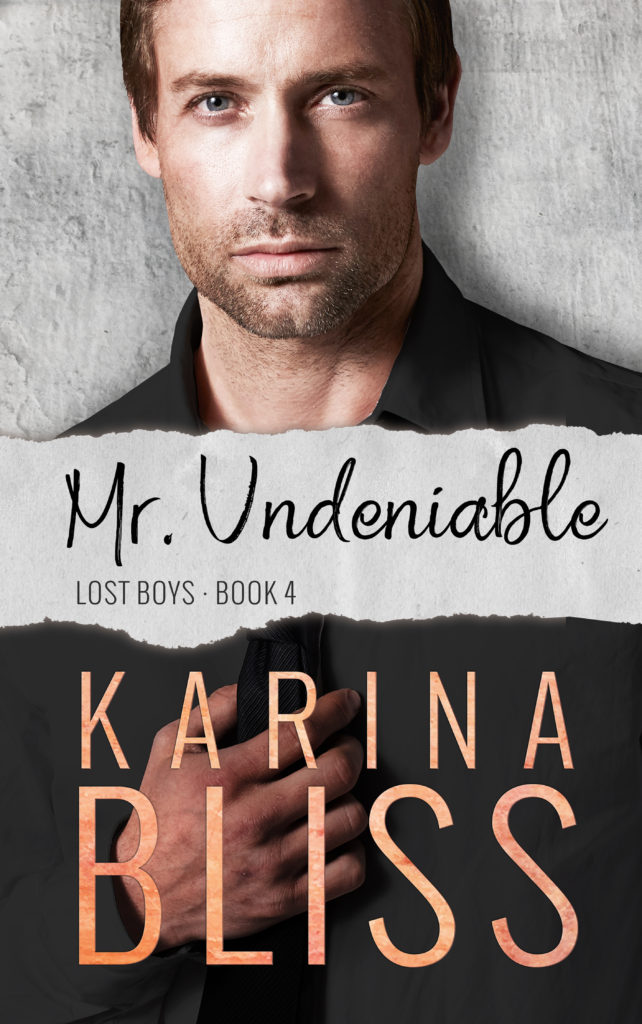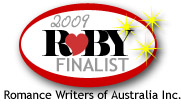 e-ISBN: 9780994145314
Republished: March 2017 by Karina Bliss
World English rights: © Karina Bliss
First published 2008
R*BY Finalist 2009
Romantic Times TOP PICK!
A businessman inherits custody of three children with his ex wife, the woman he walked away from after a personal tragedy in this poignant story of second chances.
Could she risk loving him again?
Just when he has accepted that he'll never be a father, Jack Galloway inherits not one, but three kids. He's supposed to raise this family with his ex?
And his ex-wife, Roz, has her own ideas about parenting. She's already doling out domestic duties, as if he had all the time in the world away from his business. She's also got some crazy notion, that, thanks to their unexpected "family," the two of them have been handed a second chance.
As if he'll let either of them get their hearts broken again.
If he could just crush the hope that hearts can be mended, and love will always find a way.
Get your copy of  Mr Undeniable here

Get all four Lost Boys books in a box set!

Visit my books page to read
about the other novels in this series
---

Roz sat on her dead best friend's couch in suburban Auckland reading a story to Julia's orphaned three-year-old. It was hard to lose yourself in a story you'd read twelve times since breakfast but she tried.
"The dump," she began, "isn't a place most animals would choose to live but Pinky the mouse wasn't one of them." On her lap, Cassie stared fixedly at the jaunty rodent, her small fingers absently pulling at a loose thread on the well-worn couch.
"Turn the page for me, honey," Roz said to distract her but Cassie was a multi-tasker and managed to keep her grip on the thread. What the hell, the foam was already showing through anyway. It was that kind of house, unpretentious and restful, reflective of the people who – who'd – lived here. Roz picked up her glass of water from the coffee table and loosened her throat. She'd had to do it a lot since the airport run this morning. Be brave for the children.
Snatches of conversation drifted across the hall from the kitchen, where the latest bunch of well wishers was dropping off casseroles and condolences. "I can't look at those poor kids without crying," said a neighbor.
Roz read louder. "Pinky loved the growwwwl of the bulldozers…" She paused for Cassie to growl, "…as they pushed the rubbish into neat piles." The house was still chill from being shut up for two weeks so she did up the buttons of the toddler's rainbow cardigan.
"I don't think," said another female voice, "that the baby understands."
Cassie growled again, with a deep, carrying ferocity that startled the unseen speakers into silence and Roz gave her an approving squeeze. "This mini madam," Julia had always said fondly of her youngest, "is going to be an opera diva or a trade union activist."
Julia. The words on the page suddenly blurred.
"Read faster," Cassie ordered. The doorbell rang and Roz put the book aside. More flowers or offers of help.
"I'll get it." Julia's sister, Fiona Evans, bustled through the living room, pausing to loose the thread from Cassie's grip. "No, darling, that's naughty." A youthful forty-two, the petite salon-blonde's refined English accent recalled boarding school matrons. "Here, have one of these instead." She thrust the chocolate box on the table toward her niece.
"It's pretty close to dinnertime," Roz ventured, but cautiously because Fee had been staking territory since she'd landed in New Zealand this morning. By ten am everyone had got the message – she was in charge. She was obviously using super efficiency to manage her grief – the sisters' families had been on holiday together and poor Fee had had to identify the bodies – but her behavior was exhausting the kids. And Julia would hate to see her daughter being stuffed with candy.
"Special circumstances," insisted Fee. She handed Cassie two chocolates and carried on to the door.
Roz waited until she was out of earshot. "Can I have one of those?" Cassie popped the one she'd just licked into her godmother's mouth.
Somewhere Julia would be laughing. "The seagulls," Roz tried not to think about the soggy mess melting on her tongue, "were rough and cheeky but they had placed webbed feet on foreign shores and in Pinky's eyes, that made them gods."
Jack came through the door. Roz gagged, then forced herself to swallow the chocolate. She'd thought she was ready for this.
Cassie cupped Roz's hot face in small sticky hands and fixed her with a glare from eyes the same nut-brown as her fringe. "Read…the…book," she said in a pitch-perfect impersonation of her Auntie Fee.
"They liked being thought gods instead of scavenging bandits so they often visited his cardboard box home at the far end of the dump."
"Hey, Cassandra." Roz pinned her gaze to the page as Jack crouched down in front of them and offered Cassie a badly wrapped present. "I'm your uncle Jack remember? I've bought you candy."
Cassie scrunched her eyes shut and turned her head away. It was an old trick but Jack immediately withdrew a couple of paces.
Roz fought the urge to follow her goddaughter's lead as she felt his attention turn to her. For a moment longer she stared at the mouse in the yellow-checkered waistcoat, standing proudly outside his ramshackle box.
How do you greet a man who last saw you lying on the carpet in a hysterical heap and begging him to stay? Lifting her chin, Roz eyeballed his left cheekbone and said coolly, "Hello, Jack."
A man who'd just lost the last of his generation of family? Through a throat raw from crying, she added hoarsely, "I'm sorry we have to meet under such circumstances."
"We got guardianship. Is that your doing?" accused her ex husband.
Startled, Roz met river-green eyes and saw the same boarded-up expression that used to throw her into gut-wrenching despair. Her control snapped. "And bloody sorry that we have to meet at all." Then the import of his words struck her and she cried, "What!" simultaneously with Fee who'd come up behind him.
Cassie was peeking at Jack through half-closed lashes. "Where's Daddy?" she asked suddenly. The adults froze. "Oh, I forgot," she turned another page of the book with chubby fingers, "he's dead."
With a sob, Fiona fled to the kitchen. Roz gulped water, ridding herself of the chocolate's residual sweetness before she threw up. Jack turned his back and walked to the window. Even slumped, his broad shoulders blocked out the anaemic light of an overcast afternoon. "Oh God," he muttered brokenly, "what a mess."
As she stared at him, inconsequential thoughts filtered through Roz's shock. He'd cut his dark-blond hair short; it didn't touch his collar anymore. She recalled the only other time she'd seen him in a suit.
At their wedding.
Cassie growled and automatically Roz began reading again but her mind was elsewhere.  They were guardians?  "It's too dark," complained the little girl. Dazed, Roz switched on the table lamp and the mahogany coffee table gleamed in the spill of light. Once it had been hers and Jack's. Covered with papers usually, because most nights he prepared building quotes while Roz did the books. But she'd always made him phone the slow payers. "You're a softie," he'd teased her, then bent to kiss her pregnant belly. "Except here."
They were guardians?
"The seagulls thought Pinky was also a brave adventurer," Roz croaked, "and he was, but only in his imagination." Needing order, she retied loose strands of her limp hair into a tidier ponytail, "You see he'd lost the tip of his mousy little finger in an accident with some rusty roofing iron."
Out of the corner of her eye, she saw Jack straighten his shoulders. "I'll see the other kids, then you, I and Fiona need to talk." The grimness was back in his tone.
Without looking up, Roz nodded. "But Pinky told everyone he'd been in a real house, seen cheese in a mousetrap and coolly decided it was worth losing a finger for."
They were guardians.
Somewhere in the dread, a dangerous joy flickered into life.
---

ROMANTIC TIMES TOP PICK! "…a tremendously well-told story. Bliss' depiction of her characters' emotions is perfect. (4.5 stars)" ~ Alexandra Kay, Romantic Times
"… a touching story about grief and forgiveness. Award-winning author Karina Bliss enhances her story with well-developed characters that are very real. The trials and tribulations of family life are equally sprinkled with heart-warming and even humorous events; all vividly described. Readers are drawn in and encouraged to care deeply for this family by Ms. Bliss's creative talent. Karina Bliss will definitely be added to my favourite author list" ~ Donna Zaph, CataRomance
"…an emotional roller coaster ride full of inner conflict.   The characters are all wonderfully written. Karina Bliss delves deeply into the emotional psyche of each character, especially the children. The dialogue is well written and engaging, and the setting gives readers unfamiliar with New Zealand a glimpse of what it is like to raise a family there. I highly recommend." ~ Mel Mason, Romance Reviews Today
"This second chance at love tale works on several levels, but mostly because the readers will feel the grief of the three children. Thus the characters make for a great story as neither Roz or Jack want to be guardians and worse co-guardians, but the kids hook them as each mourns in different ways." ~ Harriet Klausner, Genre Go Round Reviews
---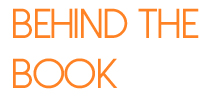 Deleted scenes
Okay, I admit. The kids got away on me for a while and I overwrote their scenes, which as my wise critique partners pointed out slowed the romance.  So out they came. But for those of you who are parents – or expect to become one – here are the deleted scenes that will strike you as fun – or send an all-too-familiar shiver down your spine:
Cassie stood with her forefinger pressed to her mouth in the exact way that her mother used to when she was making an important decision.  In Cassie's case, which piece of steak she wanted for her dinner from the supermarket meat counter.
"That one." She pointed to a Porterhouse the size of her face.
"Don't you think- " Biting her tongue, Roz meekly picked up the meat pack. Strategy number two million to get Cassie eating healthy food was to let the little girl choose her own dinner and help Roz cook it. "And for vegetables?"
Cassie's finger hovered over the beans, asparagus, carrots and… "Them."
"Yuk!" said Liam, who was pushing the cart. Roz had picked him up after school and driven straight to the market. He was tired, hot and unimpressed.
"We're nearly done," she promised, then crouched down next to Cass. "Those are brussel sprouts, hon." The little sulfuric cabbages were disgusting at their winter best, let alone as out-of-season, cold store vegetables. "Not many people like them…how about beans or-"
"Spouts," said Cassie firmly.
Roz put three in a bag and threw in some fresh peas and beans as back-ups. To reward Liam's patience, she let them choose lollies from the bulk bins – three each. "You get yours after dinner," she told the little girl. In an undertone to Liam she said, "You can eat yours now, but be discreet."
At the check-out counter, Cassie eyed all the bright packets of chocolate bars and chewing gum and started to squirm in the cart. "I'm hungry."
"There's apple in the car." As Roz paid for their purchases, Liam opened his lolly bag and popped a gob-stopper in his mouth.
Cassie squealed. "Want my lollies."
Roz put her hands on her hips. "Did you have to do that in front of your sister?"
He tried to look contrite but the gleam in his eyes told a different story. Teasing your sibling seemed to be written in every kid's DNA.
"Don't you get lollies, too?" sympathized the cashier. In her sixties, she had a kind face, and dyed black hair that had been permed so often it sprang up like steel wool.
Sensing an ally, Cassie started to cry piteously.
"You Hollywooder," said Roz, admiring the big tear-drenched eyes and quivering lower lip. "Well it won't work."
"Awww go on, let the kiddie have one." The cashier leaned forward to pat Cassie's hair and her long sagging breasts shifted under her pink smock.
Liam stopped sucking his gob-stopper and stared with a slight frown. "Did the pin on your name badge pop the air out of them?" he asked her.
Roz gave him a little push. "Liam, go finish that outside where Cass can't see you, and take her lollies with you." The wails got louder. "It's okay," she explained to the older woman who was looking at Cassie with distress. "She'll get them back after dinner."
"But I'm hungry," wailed Cassie. "I'm hungry now, Woz." Plaintive, break-your-heart pathetic to anyone who didn't know her.
"Oh, poor lamb." The cashier reached over the counter, grabbed a small chocolate bar and thrust it toward Cassie's grasping fingers. "Let me give her this…one little thing won't spoil her dinner."
Feeling like a complete heel, Roz intercepted it. "She's just trying it on…It's sweet of you but-"
At the next counter, another cashier interrupted. "Swap it for a muesli bar, then, Moira. It's more healthy."
"The thing is," said Roz, "I'm trying to discourage snacking."
"You modern mothers," said the old man waiting in the queue behind her. "It's all fuss, fuss, fuss. If the kid's hungry now, feed her now."
"Funny how she only ever gets hungry near junk food," Roz responded dryly.
"It's cruel, that's what it is." Half a dozen pairs of disapproving eyes bored into her and with a sigh, she crumbled under geriatric disapproval.
Swapping the chocolate bar for a muesli bar, Roz bent to Cassie's level and held up the treat. "If I give you this now you have to promise me you'll eat your dinner."
Cassie made a grab for the bar.
Roz retained her hold and waited for the toddler to look at her.  "I mean it, Cass…all your dinner. Promise?"
The little girl nodded vigorously and Roz relinquished her grip.
There was a small smattering of applause.
"You did the right thing," said the old man behind her.
For heaven's sake, anyone would think they'd been involved in hostage negotiations.
Roz was due to meet Jack at her city apartment when he'd finished work so she started dinner for the kids early, before the babysitter arrived. Sam had already left for a friend's whose parents' she trusted, and was staying over.
Cassie had supervised the cooking and cutting of her steak and brussel sprouts and as Roz placed the meal in front of her she felt she should be bowing over a silver salver instead of a Maisie the Mouse plastic plate. "Here you are, darling, just what you wanted."
His own plate nearly cleared, Liam said encouragingly, "Yum, yum…This is so good."
With a glint in her eye, Cassie pushed it away. "Don't like it."
"But you chose it."
The little mouth pouted. "I'm not hungry."
"When I gave you that treat at the supermarket," Roz reminded her tightly, "you promised me you'd eat all your dinner."
"I want noodles."
Roz choked. "I come up with a win-win scenario and you default to noodles?" She straightened her shoulders, her voice rose. "Let me tell you something, missy. I've won industry awards for my innovations in reward management programs. I ran courses in conflict bloody management- "
"Don't say bloody," Liam reminded her and Roz stopped, snorting air through her nose like a racehorse at the end of the Kentucky Derby.
"You promised," she said again.
Cassie yawned.
Outraged, Roz slammed her hand down on the table, ignoring the sting. "You cheater! Well, we made a deal, missy, so eat the damn food, now!"
Cassie picked up the spoon and calmly began eating.
For a moment Roz could only stare in astonishment, then torn between crushing guilt and wondrous emancipation, she turned to Liam.
"It's 'cause you sound like Mum," he explained.
She reached for a chair and sat down. "Your mum yelled?"
"Sometimes lots," he confided. "She said there were days when we drove her crazy." His imitation evoked Julia so perfectly that Roz laughed and hugged him.
"You're so clever."
"I'm clever too," Cassie reminded her. "I'm eating good, see?" She tipped her plate to show Roz and the last brussel sprout tumbled onto the floor and rolled under the fridge. Liam and Roz got the giggles.
"You're such a silly billy," Liam said to Cass.
Her brows drew together and she growled at him. "No, you the silly billy."
"No," he teased. "You are."
Roz brokered peace by suggesting dessert. "Because you ate all your dinner, you clever, clever girl!"