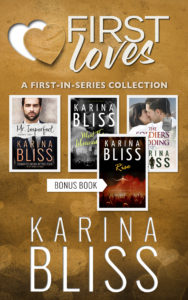 I've been busy making box sets. Here's the complete list:
First Loves: First in Series Box Set Collection
You'll find What The Librarian Did (Prelude to the Rock Solid series), The Soldier's Wedding (Special Forces #1), Mr. Imperfect (Lost Boys #1), with bonus book, Rise (Rock Solid #1). Click HERE for retailers.
Christmas, With Love: Two holiday novellas
Releases November 30, 2021 but you can preorder here, or buy them separately now). Combines Play, #2 in my Rock Solid series, and Kiss Me, Santa (a standalone).
The Lost Boys: A Complete Romance Series (4-Book Box Set)
Get all four New Zealand-set romances for a great price. Includes Mr. Imperfect, a Romantic Book of the Year (RuBY) winner Australia.
Rock Solid: Romance Box Set (Books 1-3)
The first three books of my reader-favourite Rock Solid series – Rise, Fall and Play. Check them out HERE.
Special Forces: A Complete Military Romance Series (4-Book Box Set).
One ambush. Four soldiers. And the enduring power of love. Read more HERE.

Re-release of reader favorite…

What The Librarian Did is available again in print and as an ebook.  A reader favourite, I'm delighted to add it to my Rock Solid series. WTLD features retired rockstar Devin Freeman, Zander's younger brother, and (wait for the surprise…) a librarian.
Here's the Rock Solid series (in story timeline order):
What The Librarian Did
(Devin and Rachel's story). The origin story of my Rock Solid series.
You can also buy the first three books in the series as a box set on Amazon or everywhere else.
* Fall and Play happen simultaneously and can be read in any order.
---
Privacy
Please note 'I/me' in the following privacy document refers to the author Karina Bliss (karinabliss.com).
Please be aware I take your privacy very seriously. I will NEVER sell the information you provide or give it away.
This is the information I collect when you opt-in/subscribe to my newsletter:
E-mail address
Name (optional)
The above information you provide is used in the following ways:
Monthly newsletters with information on my new releases, works-in-progress, reissues, competitions to win my romance novels, and exclusive sneak peek excerpts from my romance novels (content intended for adults only 18 years or above)
Legitimate third parties I use are as follows :
wordpress.com, host of my website (karinabliss.com). This information is stored by wordpress.com under their servers and privacy policy, which can be seen here.
Mad Mimi, who manage my e-mail services. Here's their Privacy Policy.
By freely providing your information as above (section 1), you are consenting for me to use your information for the purposes intended as above (section 2), until that time when you opt-out/unsubscribe.
You can opt out at any time using the unsubscribe button at the bottom of the emails or by contacting me through my website https://www.karinabliss.com
I (the author Karina Bliss/www.karinabliss.com) will not pass on your information to additional third parties (outside those listed above in section 3).
Karina Bliss June 2018